"Mover's & Shaker's" Gallery Show
Wednesday, January 14, 2009
Here's an upcoming gallery show in LA ... lots of good artist in this show. I'll be showing my
Idle Hands Painting
and a special preview of all three colorways of the
Idle Hands Toy
.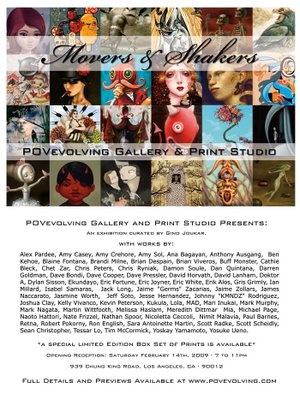 The
POVevolving Gallery
Presents:
Opening Reception:
Saturday, February 14th, 2009
7 - 11pm
POVevolving is very proud to announce its upcoming Valentines Day Exhibition being curated by Los Angeles collector Gino Joukar.This show will feature over 70 artists from the world of Pop Surrealism. The majority of the participating artists will be contributing brand new pieces that have never been shown. A group show of this caliber is certainly not common... this show is not to be missed.

Requests for a special preview link can be sent to MoversandShakers@povevolving.com.
Participating Artists Include:
Alex Pardee
Amy Sol
Amy Casey
Ana Bagayan
Anthony Ausgang
Ben Kehoe
Blaine Fontana
Brandi Milne
Brian Despain
Brian Viveros
Buff Monster
Cathie Bleck
Chet Zar
Chris Peters
Chris Ryniak
Damon Soule
Dan Quintana
Darren Goldman
Dave Bondi
Dave Cooper
Dave Pressler
David Horvath
David Lanham
Doktor A
Dylan Sisson
Ekundayo
Eric Fortune
Eric Joyner
Erik Alos
Eric White
Gris Grimly
Ian Millard
Isabel Samaras
Jack Long
Jaime 'Germs' Zacarias
Jaime Zollars
James Naccarato
Jasmine Worth
Jeff Soto
Jesse Hernandez
Johhny "KMNDZ" Rodriguez
Joshua Clay
Kelly Vivanco
Kevin Peterson
Kukula
LOLA
MAD
Mari Inukai
Mark Nagata
Mark Murphy
Martin Wittfooth
Melissa Haslam
Meredith Dittmar
Mia
Michael Page
Naoto Hattori
Nate Frizzel
Nathan Spoor
Nicoletta Ceccoli
Nimit Malavia
Paul Barnes
Retna
Robert Pokorny
Ron English
Sara Antoinette Martin
Scott Belcastro
Scott Radke
Scott Scheidly
Sean Christopher
Tessar Lo
Tim McCormick
Yoskay Yamamato
Yosuke Ueno
and more...
Gallery Location
939 Chung King Road
Los Angeles, California
90012
View Larger Map
Labels: gallery show LA